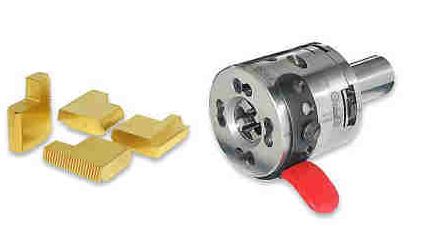 Genuine Coventry dieheads and Coventry chasers have become a by-word for external threading. Originally developed by Alfred Herbert and sold world-wide, the Coventry diehead is probably used in more countries than any other system.
Existing Coventry diehead users should note that we are offering the full range of lip grinds to suit most materials, including:
S-type, B-type, AM5, AM, S5, AS, M5.
S-20, B-33 and AM5 20 will continue to be our most widely available Coventry chasers, but all other combinations of lip and throat can be supplied rapidly from our huge stocks of blanks and semi-finished chasers.
Coventry Dieheads can be used on Turret lathes, CNC and automatic screw machines. The total system is noted for its ease and simplicity in setting, and for the accuracy of cut over a very wide range of thread variations. Automatic self-opening at the completion of each cut makes Coventry ideal for batch or continuous production work.
Product Features
Rugged - simple construction for reliability and long life
Compactness - permitting use on machines with limited clearance
Accurate Pitch - due to the guiding action of the non-cutting portion of the die
Adjustability - providing fine regulation of finished diameter for 3a class threads
Clean and smooth threads - as the dies have cutting angles suited to the material being used
RH and LH thread - by only changing chasers
Parallel threads - due to the very efficient support of the dies in the diehead
Minimum downtime - for change

of thread size, important for production economy on short to medium batch runs
Advantages of Coventry Chasers
Coventry chasers are designed so that cutting takes place at the chamfer and the first full tooth. The other teeth are above centre height, so they act as a nut, ensuring accurate pitch.